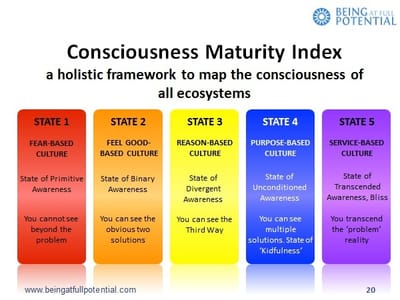 CONSCIOUS CULTURE AND HIGHER STAGES OF LEADERSHIP DEVELOPMENT
Leadership development in its deepest meaning refers to the transformation of consciousness.
The Human Potential realisation tools and methodology was created "to spark leadership development based on engaging the Human spirit to foster the potential of inspired people. This work invites seekers of new horizons in organisational life." (Adapted from quote by Max Riley, Ph.D., Center for Non-Profit Coaching, USA).
Only by raising the individual and collective consciousness can we create that 'space' for sustained breakthroughs in Human performance and results.
As a leader's consciousness develops, the leader's action logic (or meaning making) also develops.
This new and more complex leadership meaning making capability has been correlated with increased leadership capacity (and effectiveness) in leading the team or organisation to find implementable solutions for complex change initiatives in a fast changing world we operate in.
Arising Consciousness is the new postconventional leadership change lever for profound transformation and effective value creation.
Conscious culture takes center stage in informing, shaping and elevating the present and future strategic capacity and capability of leaders and people in the organisation to adapt, self-renew and thrive in today's uncertain, volatile and non-linear world.
We provide practical methodology, tools and a roadmap for Conscious Culture Transformation and Higher Stages of Leadership Development.
Leaders can now access a wealth of Human dimension data points and analytics to tap into the deep inner foundation of Human values and action logics (the way leaders make meaning and organises reality) for creating new solutions and results of unique value to others in more and more complex environment.
Conscious culture becomes the wellspring for leader and people to grow and show up in their highest Human potentialities.
Source of information on Action Logic from a variety of researchers and authors including William Torbert, Suzanne Cook-Greuter and Barrett Brown.