Executive Summary
This White Paper lays out a comprehensive framework and a concrete roadmap that will give confidence to and make it easier for executives and culture change leaders who want to transform their organisational culture in the most impactful and powerful way. One consequence of this transformation would be that the organisation will raise its long term strategic capacity and capability to its highest level of potentialities. Here are the highlights:
1. Culture is now acknowledged as a key strategic business driver
Culture has taken centre stage. Leaders today understand that they must transform their organisational culture to achieve their long term strategic outcomes in this ever changing, fast-paced, complex and globally connected economy.
Culture transformation has the greatest impact when we understand how the underlying forces of culture (and its manifestations) impact the individual and organisational Human Potential for breakthrough performance.
2. However, most culture programs fail
There has been a lack of systematic ways to address the human experience and multiple dimensions of people and yet this is at the heart of impactful culture programs.
Trying to achieve deep culture change is hard to do for leaders because it involves having to dive deeper into the 'messy' human dimensions and dynamics.
3. Higher impact culture transformation programs must acknowledge the WHOLE 'culture iceberg' (See Figure 2)
A simplistic approach to culture change often leads to short term and temporary increase in performance.
We use the metaphor of the 'culture iceberg' to help leaders to dive deep to understand what culture is, what deeper content culture covers, how to assess it and what to focus on at each level of the culture iceberg.
Most culture change programs address the (simpler) first two culture levels (artifacts and espoused values), without adequately addressing the third and deeper level at the bottom of the 'culture iceberg' (basic underlying assumptions) and as such often fail to deliver their objectives and key results.
As a result, the impact of culture change is unstable and marginal. Things soon get back to the 'default' mode. The solution lies in creating a conscious culture of growth and empowerment by acknowledging all three levels or the WHOLE of the culture iceberg using our HP assessment tools and methodology.
4. Raising awareness and consciousness of people in organisations and other ecosystems is the new change-lever for cultural transformation (& value creation)
It is our contention that only by raising the individual and collective consciousness can we create that 'space' where sustained breakthroughs in performance and results can truly take place.
Culture and consciousness being integral to each other and operating consistently from this deep 'space' will lead to real and profound culture change. We will examine the various shift and levels of consciousness, and this is the new change lever for profound culture transformation.
It is becoming evident that science alone cannot explain some of the most perplexing subjects in our Human lives, like consciousness and love. The knowledge and ancient wisdom from 'metaphysical or mystical science' help to overcome this limitation.
5. Human Potential assessment tools, analytics and methodology are the conduit to the bottom layer of the culture iceberg
The HP assessment tool and methodology laid out in this paper offer the solution to executives and change leaders to conduct deep-level culture change where the real impact of culture change is.
The 'space' at the bottom of the culture iceberg is where the ultimate source of Human values and actions originates from.
6. The Road Map – addressing the WHOLE culture iceberg for outstanding performance through conscious culture
We take you through a six steps Road Map that gives culture change leaders a practical way to make better sense of the WHOLE of the culture iceberg to bring about outstanding performance of everyone across the organisation.
A new kind of shared learning will emerge, and a new kind of leadership is being formed in the process by Assessing, Discovering and Harnessing the immense, yet untapped, Human Potential of everyone in the organisation.
In the process a culture of self-mastery (empowerment) and growth will evolve.
This White Paper shows us that there is great reward in raising or shifting the consciousness maturity levels within organisations. Leaders can now have access to a new way to re-imagine and re-sculpt their organisational culture today as the pathway for outstanding performance by everyone in the organisation.
This paper prepares organisations and their people to increase their core Human capabilities, namely to thrive and create value for others, to commit and to act, to self-renew and adapt, and to build cohesive, inventive and evolutionary organisations able to sustain long-term growth and prosperity.
Figure 2 – HP Culture Iceberg – The 3 levels of culture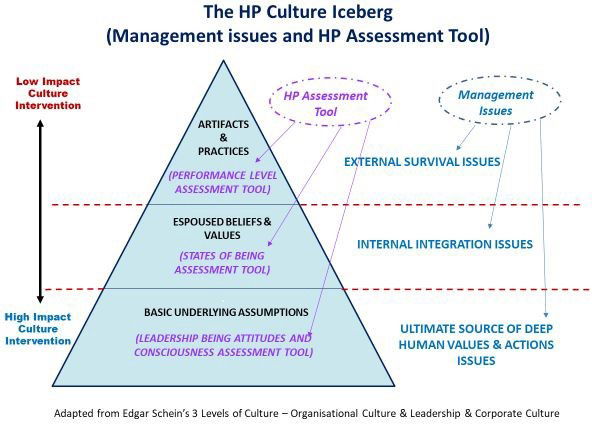 -------------------------------------------
Please download the whole Conscious Culture White Paper using this link - https://www.consciousculture.nz/articles/conscious-culture-white-paper-link
------------------------------------------------
A White Paper by Peter Leong in collaboration with Sujith Ravindran and Mark Vandeneijnde