The 2019 LinkedIn Global Talent survey states that "soft (Human) skills is where machines can't compete". Hard skills matter but at the same time, while "the half-life of many hard skills is shrinking, soft skills stay relevant." The challenge is that "companies are struggling to asses soft skills without a formal process, despite their growing value.
According to the survey, HR professionals often use social cues in interviews to assess soft skills, and the problem is that these perceptions (e.g. She seemed upbeat, so she's probably a good collaborator) are predictive and worse they are often unconsciously biased. "If companies want a hiring strategy for the future, they need to change how they identify and hire for soft skills."
---
HUMAN POTENTIAL EMPLOYABILITY ASSESSMENT - MEASURING AND EXPOSING THE SOFT HUMAN SKILLS IN TALENT RECRUITMENT PROCESS
Our new Employability Assessment Tool give companies a new approach to develop new hiring strategies because HR professionals can now recruit new talents based on a wealth of soft Human skills data-points that they can access throughout their talent acquisitions process, instead of having to rely on social cues and/or "static" personal information (e.g. that they are either good at something or not, a good leader or not, an introvert or extrovert, etc.).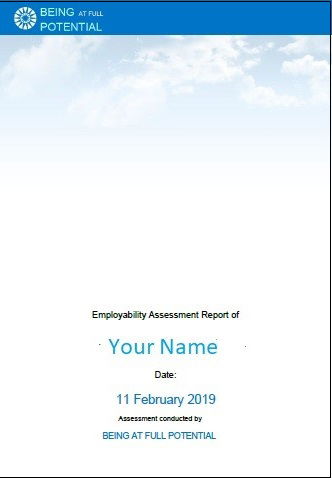 Our Employability Assessment tool and methodology is unique because it looks at people in their wholeness - what we refer to as a potential-based (or wisdom-based) perspective to HR management. In this way we not only look at who a person is today but also who they can become when all their gifts and talents (or soft Human skills) are fully expressed in the context of their work and their potential for vertical developmental growth (meaning-making, action logic and consciousness).
Employability is the possession by an individual of the (human) qualities (soft skills) and competencies (hard skills) required to meet the changing needs of employers and customers and thereby help to realise his or her aspirations and potential in work.[1]
Employability Assessment framework
We look at 'employability' as a function of technical or trade skills that we acquire through traditional education (hard skills), and the deeper attitudes or mindsets that inform how we live our lives (soft Human skills) as shown in the Figure below.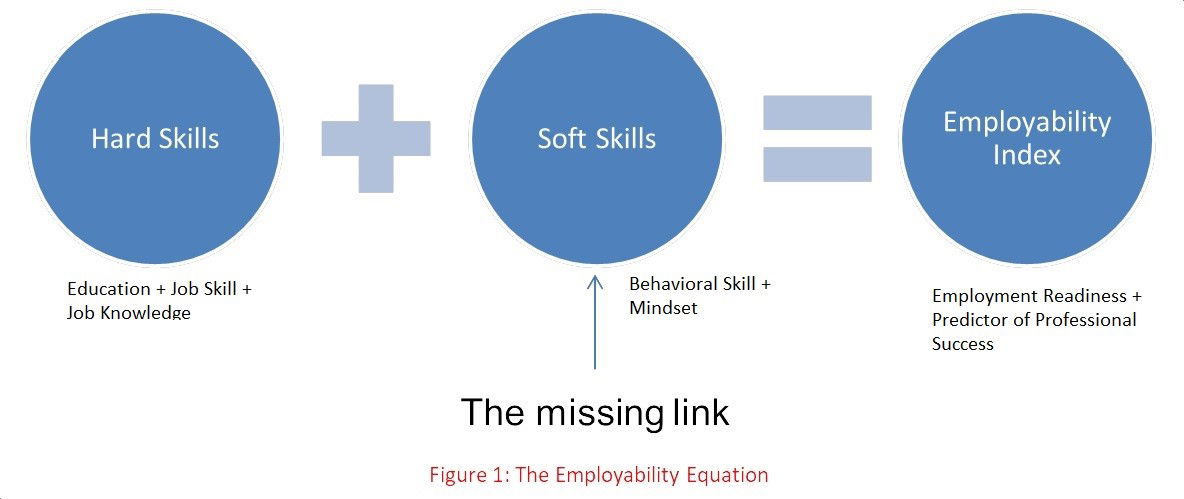 The objective of the Employability Assessment report is to measure how employable a young (or adult) professional is, and what are the levers to pull in order to raise the 'employability' of the individual. We shed light on the most critical behaviours and mindsets that make one employable in this rapidly changing world.
This unique approach to assessing individuals and groups of employees brings the focus back to one fundamental pillar of employability: a person`s openness and willingness to learn and the capacity to shift mindset and grow.
Professional Success Measures and Behavioural Skills Data Points
The five Performance Measures give you insights into how a new talent is likely to perform along 5 key Professional Performance Measures (PPM) and priorities for employers: Trustworthiness, Getting Things Done, Inventiveness, Personal Engagement and Stakeholder Orientation. Each of these performance measures is further broken down into the corresponding 10 Behavioural Skills data-points to give more insights on how you are performing along these measures today (see Figures below).
Five Professional Performance Measures (PPM)
Ten Behavioral Skills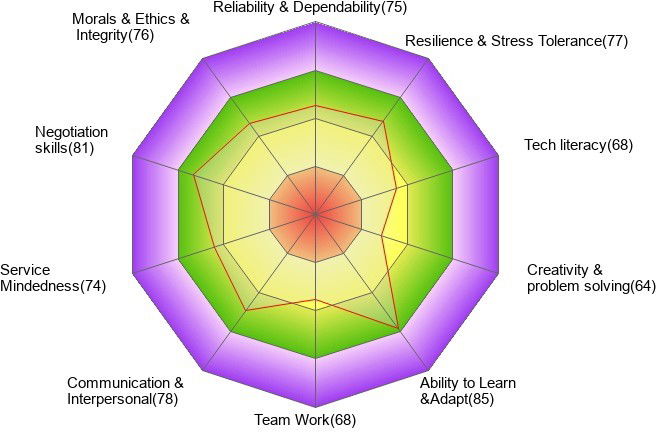 Employability Attitudes – The eight Employability Attitudes measures (see Figure below) are mostly likely to make an employee/talent succeed in the short-term and the long-term. The right mindset/attitudes are considered crucial in successfully performing jobs in the more complex and changing workplace today. Developing Employability Attitudes is also an enabler of reskilling and future growth in self-leadership attributes. Through the right training, all the eight attitudes shown here can be (re)developed or shifted to a higher maturity level.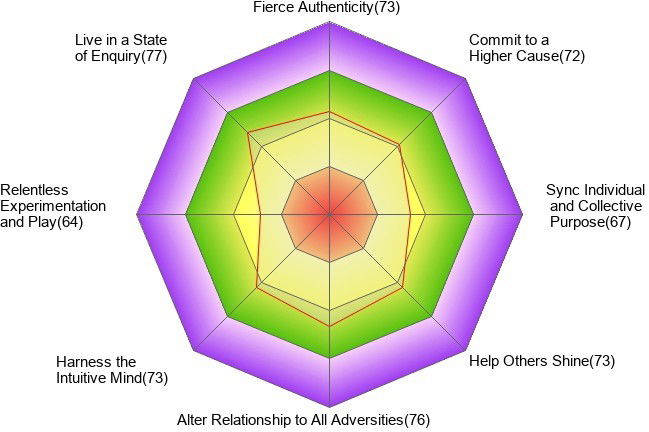 Note: In all the Spider graphs shown, we use a 4-point scale from Red (unexpressed) to Yellow (under-expressed) to Green (well-expressed) to Purple (highly-expressed)
There are also additional findings included in the Employability Assessment report and they are The Intensity Score (measures your aliveness, or intensity with which you engage life and Being "full on") and The Inner Strength Score (gives you a sense of how rooted you are in your core values and how courageous you are in staying true to them.)
At BEING at Full Potential we believe that peak organizational performance can only be achieved when we first create the conditions for peak human experience.
Additionally, the Employability Assessment and the Human Potential realisation tool and framework gives HR professionals a new way to look at both vectors (how someone is performing today AND how they could be performing in the future when their potential is nurtured in the right way). This way, we get a true sense of how we can grow an organization's talent/leadership pipeline in the most optimal and effective way.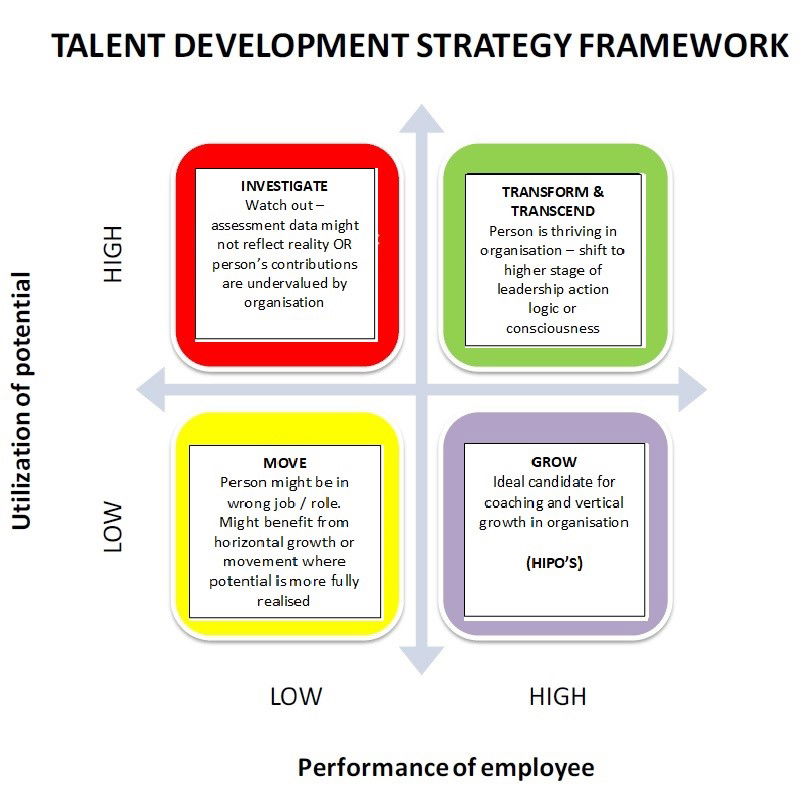 Peter Leong is the network partner for Being at Full Potential in NZ, as a thought leader in Conscious Culture and Conscious Leadership. For questions about the tool and how it might benefit you and your organization please contact: pleong@changestrategy.co.nz; +64 21 190 2828
Mark Vandeneijnde & Sujith Ravindran are co-founders of the center BEING at Full Potential, and authors and pioneers in the field of Human Potential Development. Peter Leong is the network partner for Being at Full Potential in NZ, as a thought leader in Conscious Culture and Conscious Leadership. Our vision is to create a world where every individual and organization fully expresses their Human Potential.
[1] Ref: (CBI, 1999) - The Confederation of British Industry; parenthesis mine 1