Being at Full Potential is a global network of Human Potential development facilitators and coaches sharing and committing to a bold Vision of "Every Human, Being at Full Potential."
For this article, let's imagine that you open your closet, and you see the many pairs of shoes that you have. You may have a 'lazy' pair of shoe that you wear when you feel like chilling out, a dress-up shoes to impress an important visitor at work or attend a work function, or your reliable "Doing" shoes you love to wear to work to brace you to step into doing all the work (tons) that you know is waiting for you to do at work, expecting the usual full-on busy day ahead of you.
But do you have a "Being" shoes that you can step into?
One of the leadership-development programs that we facilitate with our clients is the "Being Leader" workshop, which can be a one-day primer workshop or a two-or three-days full (deep) immersion workshop. Metaphorically speaking, what the workshop does is to show you what the "Being" shoes is like and about, and how you can step into your Being shoes with a new and expanded way of doing what you do, from a wider leadership capacity through the lens of a Being leader's state of consciousness.
The Being Leader workshop is in fact a unique and well-tested transformational leadership program that lies at the the edge of human awareness and post-postmodern organizational practices, coming from our research and our pioneering thought leadership focusing on quantifying the unquantifiable as a new tool and framework that enables the "Being" (in the Doing), and making it a new collective lived reality.
This article summarises the context behind the "Being Leader" workshop that we offer around the world. Every organisational culture has shared assumptions about what it means to be a leader. These underlying shared leadership assumptions have direct implications for the different kinds of leadership orientation (or styles) that we see in different organisations.
These underlying assumptions influence how leaders orientate their choices and action in response to how they experience and see the reality of different challenges and opportunities that emerges before them. Contemporary leadership studies and research shows that the predominant leadership orientation is that of the "Doing" leadership kind (about 67% in the US).
At our Being Leader workshops we identify the passaging of 3 leadership styles along a spectrum of leadership consciousness to explore and "honour and embrace every legitimate aspect of Human consciousness" [1] This exploration show us how leaders can expand their core leadership capacity, capability and competencies by accessing and adopting practices based on Being attitudes, Human Potential dimensions and performance drivers of a Being Leader's state of consciousness, while "dancing" alongside the Doing leader's and the Self-preservatory leader's orientation, as shown in Figure 1 below.
We contend that raising leadership consciousness is the new change-lever for leadership transformation (in a Conscious Culture[2]) to redefine the existence and boundaries of the people in the organisation in becoming more ecologically sustainable and socially and economically responsible, in this ever-changing, volatile and uncertain world we live and work in – by stepping into the shoes of a Being Leader – into a new way of how they see the world and exhibiting new capacities of "deep conduct, knowing oneself, adaptively manage, cultivating transformation and navigate with sophisticated theories (concepts) and framework."[3]
Figure 1 – Being Leader Spectrum of Consciousness[4]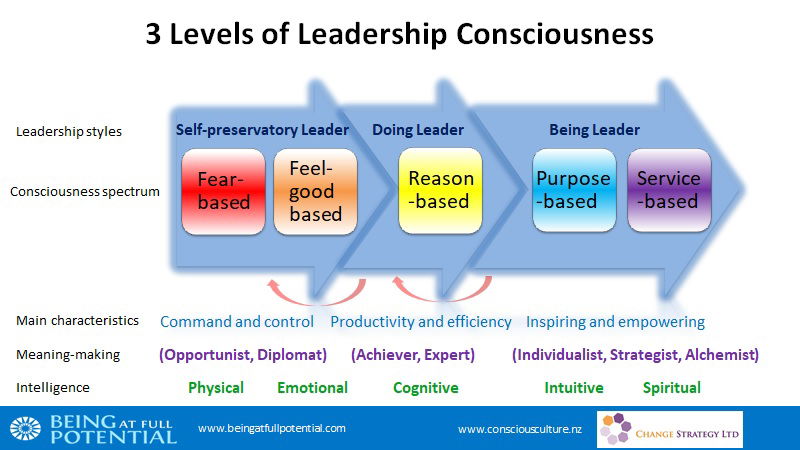 ---
[1] Ken Wilber – Integral Psychology
[2] Conscious Culture white paper link – https://www.consciousculture.nz/articles/conscious-culture-white-paper-link
[3] In quotation marks, adapted from Barrett C Brown paper – Leadership at the edge – Leading complex change with post conventional consciousness
[4] The Being Leader spectrum of consciousness is from the work of Sujith Ravindran at Being at Full Potential