How conscious is your own leadership and your leadership team? What do you and your leaders need to become to create the future you want? What type of leaders are needed? Our unique Human Potential Leadership Developmental methodology is your ideal companion and solution to diagnose, develop, elevate and advance the higher stages of leadership action logics or consciousness maturity to deliver breakthrough outcomes.
---
TOWARDS HIGHER STAGES OF LEADERSHIP DEVELOPMENT AND GROWTH
Certainly, the new developmental science of leadership consciousness transformation is rapidly spreading from academia and research fields[1] into the organisational developmental space particularly in how a leader thinks, feels and engages in the world, and in relation to leadership effectiveness when navigating through the complex challenges and opportunities that arise in today's a fast changing and complex world.
So far, organizations have done a great job developing DOING leaders (mainly from lateral learning and development) – in setting direction, translating goals into concrete actions, establishing the right systems, structures and reward mechanisms to influence behavior, all contribute to the DNA of an effective DOING leader.
But effective DOING leaders alone are insufficient for meeting current and future needs of organisations.
Often, we are taught what to DO as leaders and to perform. But how much of a person's true leadership potential is being expressed when we solely focus on the DOING or staying at DOING level? 50% 65%?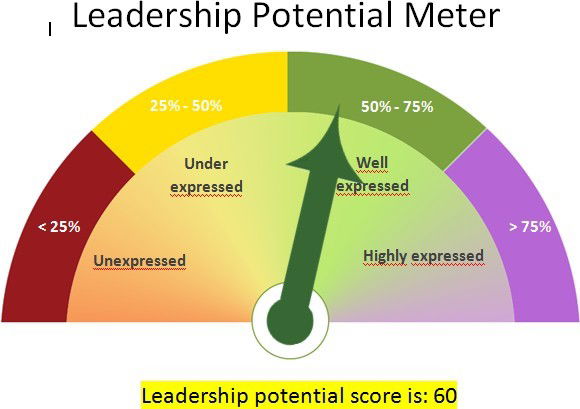 What would it take to move the needle to 80% or 90%?
To adequately prepare leaders for the future we must close the gap between leadership performance (DOING) and their potential (BEING). We must learn how to BE good leaders.
As a leader, are you more about "DOING" or more about "BEING?" Where will you "BE" in 5 years or 10 years?
21st Century Conscious Leadership development requires BOTH Vertical + Horizontal Learning to close the leadership skills gap (between DOING and BEING).
New integral science of leadership vertical learning is the missing piece of the puzzle close the gap between leadership performance (DOING) and their potential (BEING).
Vertical learning cultivates a more complex mindset that makes leaders considerably more effective than their counterparts.
Vertical learning occurs naturally, but it can also be accelerated by 3x–5x under the right conditions.[2]
Studies into the new integral science of leadership consciousness development show that "leaders and change agents can potentiate a shift in their leadership capacity by developing their leadership action logic."[3]
A shift to a "later (or higher stage) action logics and more complex meaning-making has been correlated with increased leadership effectiveness".[4]
Using our Human Potential Assessment tool and diagnostics, we can establish a correlation between the DOING leader with the CONVENTIONAL stage of leadership ACTION LOGIC, and the BEING leader with the POST-CONVENTIONAL stage of leadership action logics as the figure below shows.
In other words, the five States of our Consciousness Maturity Index correlates with the eight stages of a leader's action logics.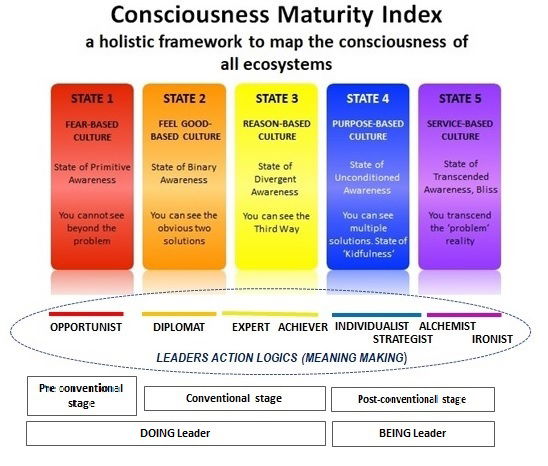 With our Human Potential Assessment tool and diagnostics, we can help organisations to accelerate the development of leadership consciousness or action logic. It is an advanced, well- tested diagnostic that exposes the very core (the BEING) of a leader's potential and its leadership maturity in consciousness or action logics.
21st century organisations requires unprecedented leadership capacity to lead complex changes and deliver the results needed today and tomorrow. Managers are often neither trained nor accustomed to coping with unpredictable events and complex conditions. The challenge is that recruitment of high performing leaders can be slow, expensive and unscalable.[5]
Growing them is the only viable, affordable, and sustainable solution.[6]
A PIPELINE OF LEADERS ACROSS THE CONVENTIAL AND POST-CONVENTONAL SPECTRUM
Research[7] suggests that organisations having a mix of leaders with different stages of action logics (including later or higher stages) have a greater CAPACITY and confidence to act in and on the world in a way it believes it can be effective and have significant impact – directly engaging with real-life issues (including wicked problems) and results in a fast changing world.
By deploying our Human Potential realisation tool and methodology, leaders have access to a powerful (yet practical) vertical leadership developmental processto set in motion and grow a 'conveyor' or 'pipeline' of leaders with both
Conventional action logics AND leaders with higher stages of Post-Conventional action logics, as illustrated in the figure below.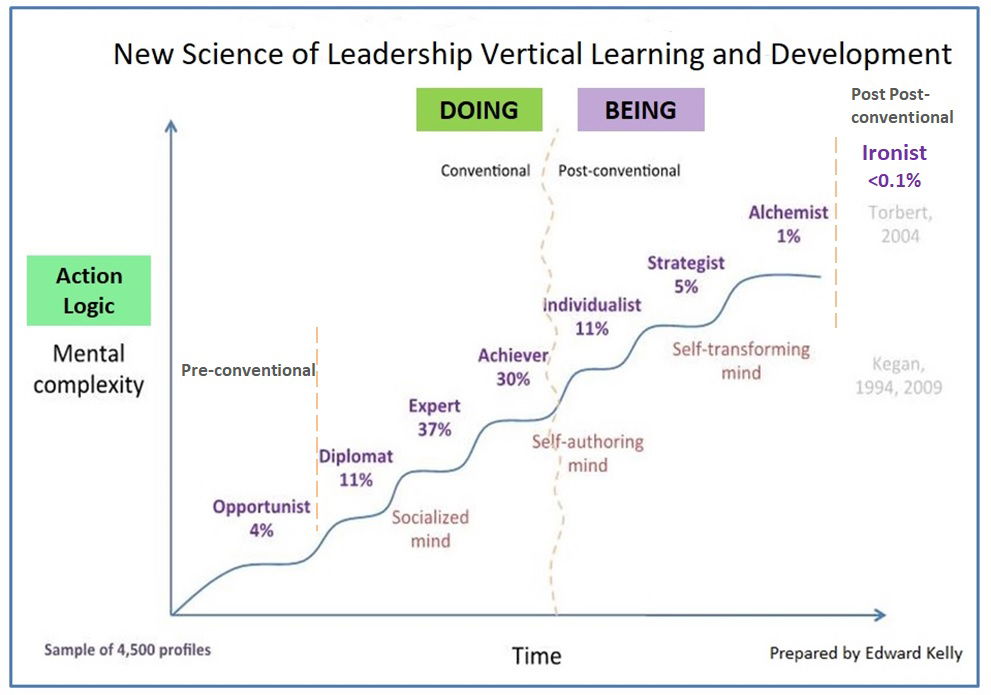 Organisations that are learning to grow this spectrum of leaders action logics or consciousness are in a great position to continue to thrive in the 21st Century market place.
Good leaders create 3x more economic value than poor leaders, and extraordinary leaders create significantly more economic value than all the rest. (Zenger & Folkman's study of 30,000 leaders)
CREATING THE FUTURE THAT WE ASPIRE FOR
The Human Potential Assessment Tool and methodology makes it very easy for organizational leaders to discover how and where to place themselves (the types of leadership action logics and consciousness) based on today's reality, and more importantly, get a glimpse of what the emerging future reality and human capacity could look like at its full potentiality.
It is this future state, and the additional value that it can create for an organization, that triggers an openness to look at the deeper human levers sitting beneath the surface. Not only do we measure where you and/or your organisation are today on these leadership priorities, but we also provide you with a detailed map of your ideal end state.
With this ideal state in mind we work backwards to identify the areas of intervention at the deeper human dimension to bridge the leadership gap and the readiness to deliver short- and long-term expectation and outcomes demanded by customers and stakeholders.

[1] Piaget, Loevinger, Wessler, Kegan, Cook-Greuter, Torbert and Barrett Chapman to name a few out of many others
[2] Reference – Barrett Brown – Conscious leadership for sustainability
[3] Reference – Barrett Brown – Leadership at the edge: Leading complex change with postconventional consciousness
[4] Reference - Barrett Brown – The Future of Leadership for Conscious Capitalism (MetaIntegral Associates and Pacific Integral research)
[5] Reference – Barrett Brown – The Future of Leadership for Conscious Capitalism; adapted, italics and emphasis mine
[6] Ibid
[7] Reference – Torbert (various papers) – Global Leadership Associates