Master Class 3 - On Being a Conscious Culture Change Specialist
This master class will equip culture change leaders and managers with a 6 step process to co-create a conscious culture by addressing the whole culture structure for sustainable breakthrough performance that is aligned with strategic priorities and outcomes.
---
Step 1 - Leadership commitment and sponsorship
a. Develop a business case - is there a need for culture change? Does your culture support or serve your strategy? What are the behaviors that matters most for the successful execution of your strategy and how can your culture inspire the change in these behaviours?
b. Revisit your strategy, vision/missioin and shared values. Conduct a 'visioning' workshop to gain a deeper insight into where you and your people are at now, what they truly want (at aspirational level) and "see" what that future may be like.
Step 2 - Create a conscious culture change leadership team - planting the seed of conscious culture. Create master motivators of conscious culture. "Companies big and small ar coming to realise that it will take leaders with different way of thinking and different skills to reinvent the business." (Ram Chanran - The High Potential Leader)
Step 3 - Baseline measurement - Organisational Human Potential assessment tools and methodology. Using Humanistic data points from the HP assessment to create a 'spirit of inquiry' in all 3 levels of the culture structure or culture iceberg. Accessing a range of powerful Human Potential data-points to confidently change the language with new language and words to encourage new potentialities, differentiations, meanings and (new) states of consciousness.
Step 4 - Begin the Enquiry and Diagnosis stage (Assessing and Sensing)
a. Assessing and sensing the top layer of the culture iceberg - the External Survival issues through the 6 HP Organisational Performance Matrics (OPM) - see figures below.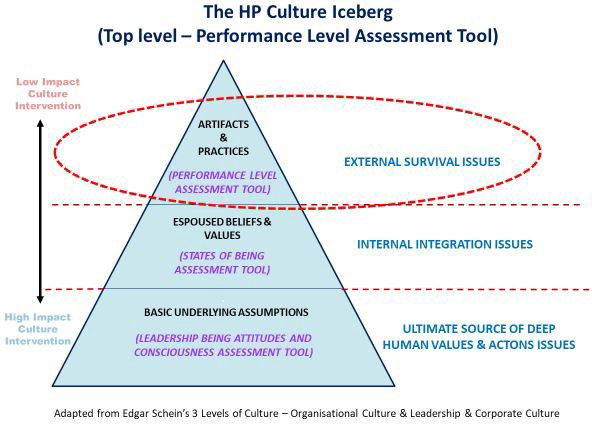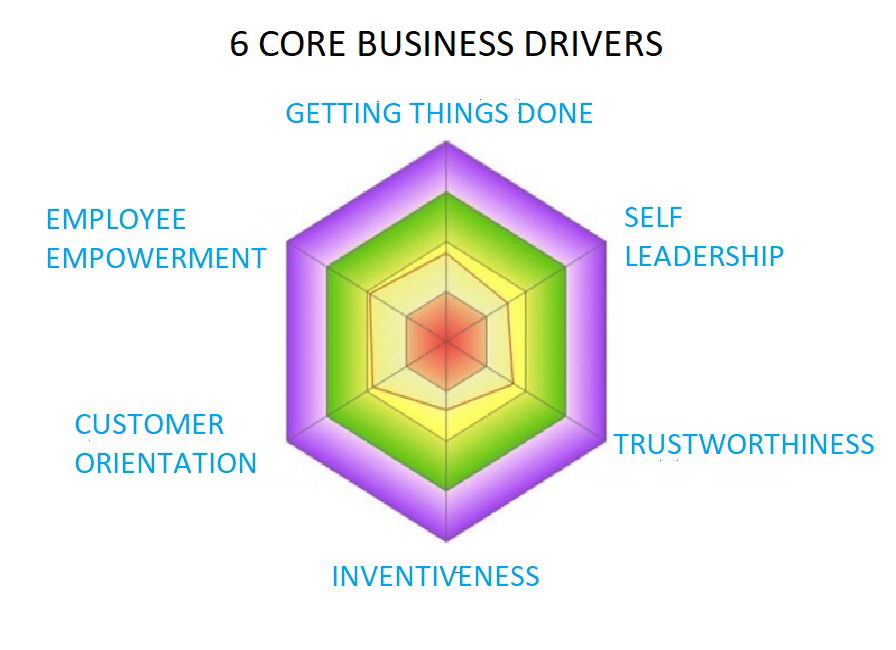 b. Assessing the middle layer of the culture iceberg - the issue of Internal Integration through the HP Human Potential Realisation data points (see figure below)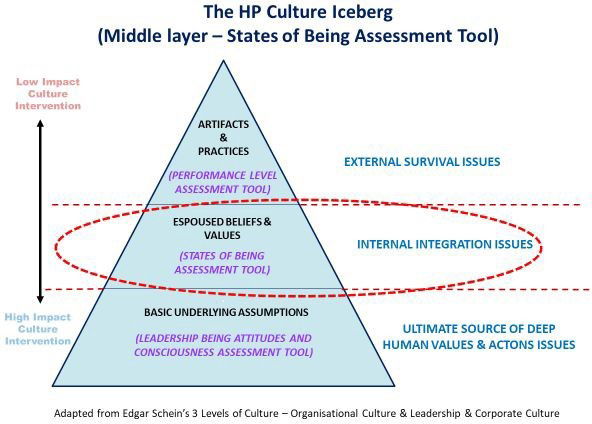 Figure showing "Most and least expressed Human Potential dimensions"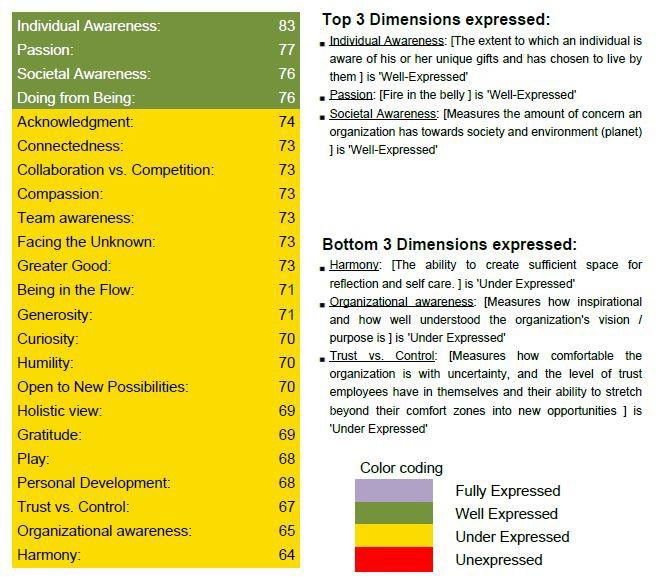 Figure below shows the 23 dimensions and 4 states of Human Potential Realisation in the "House" image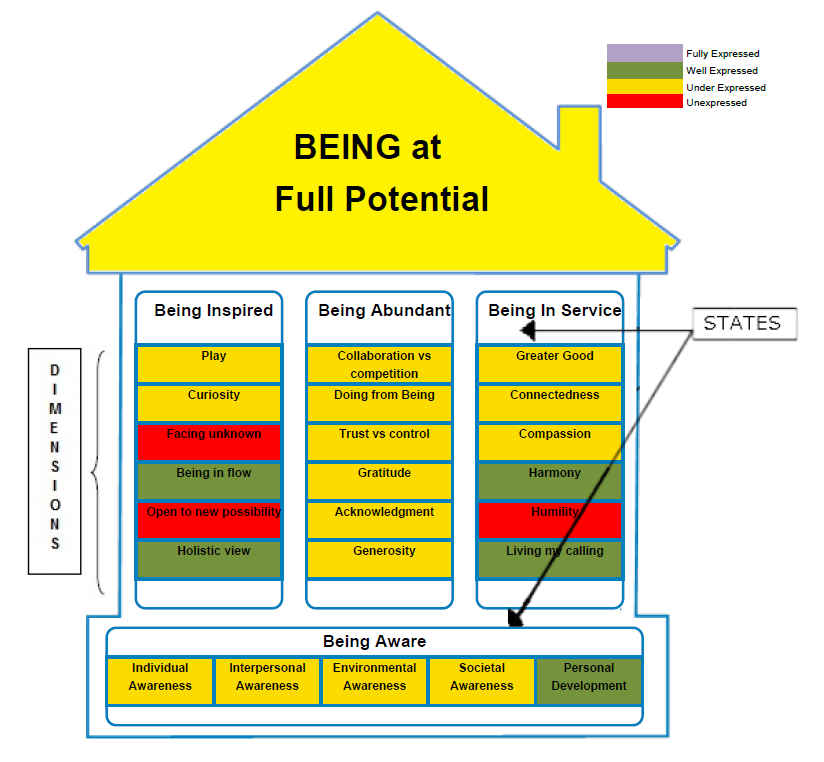 c. Accessing and sensing the bottom layer of the culture iceberg - the issue of the ultimate source of deep Human values and actions through the HP Consciousness Maturity Index and Leadership Being Attitudes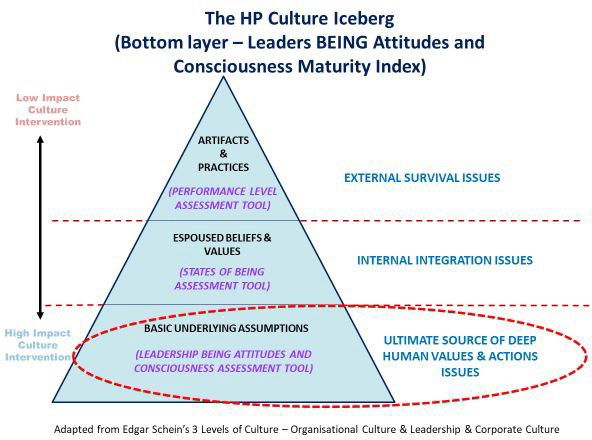 For the first time, we have a way to assess, 'see' and experience the Consciousness level (or index) of the organisation to enquire about the ultimate source of deep Human valuse and actions of the leaders and people working in the organisation. The Consciousness Index is shown below.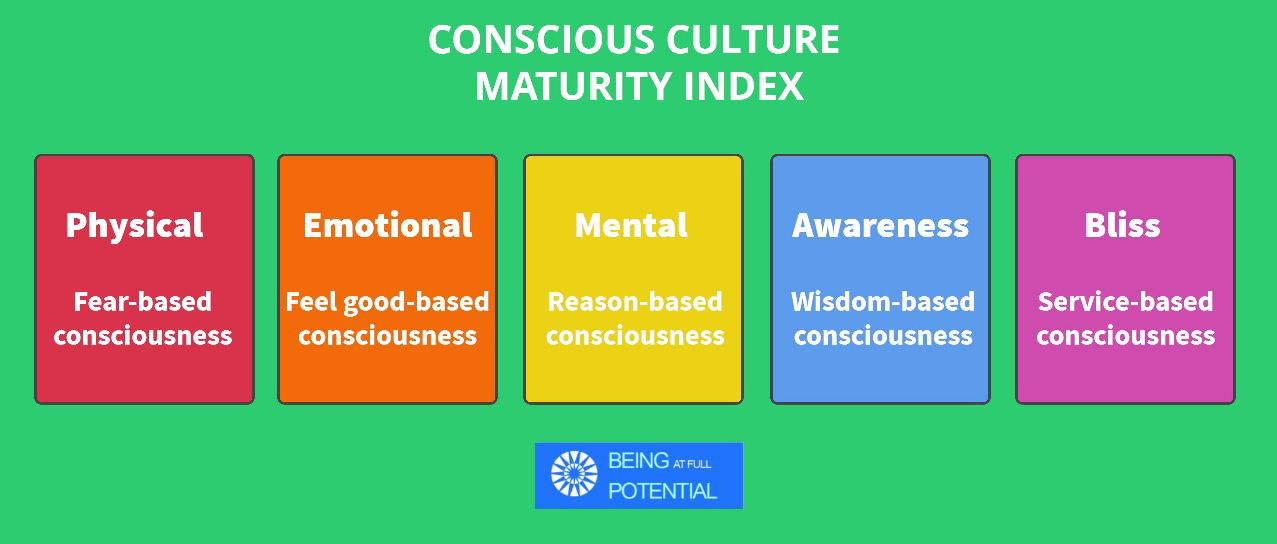 We can further draw insights about the deep Human values and actions at the bottom of the culture iceberg through new conversations using the 8 Leadership Being Attitudes as insightful data points. See figure below.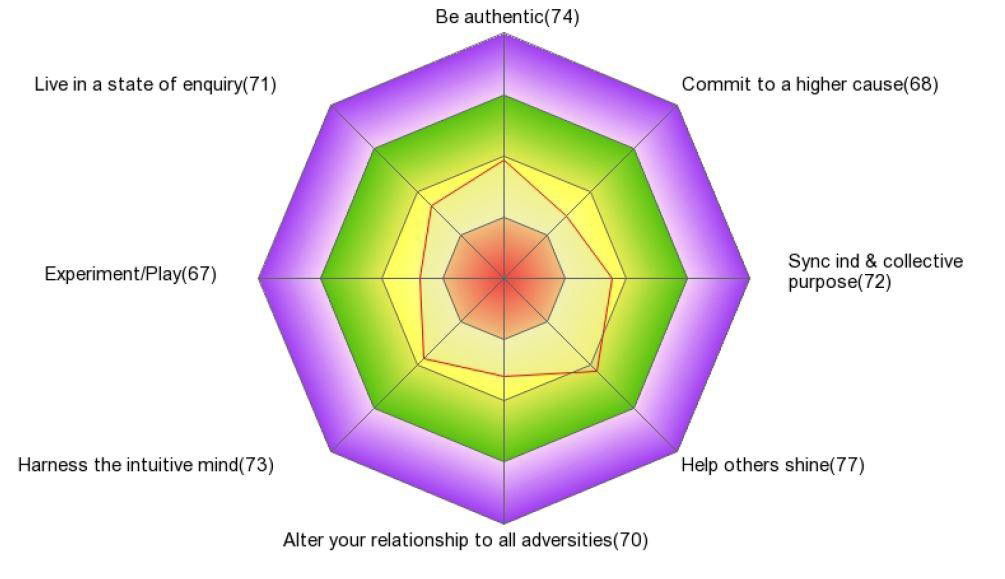 Step 5 - Begin the Discovery stage - immersing into the findings
We are proposing a holistic framework that quantifies and intuitively connects the deeper human levers of culture with the strategic priorities of an organization - something that has not been available until now. With these tools and methodologies it is now possible to go about implementing Conscious Culture Change in a reliable and highly efficient way.
With trained facilitators and coaches the culture change leaders in the organisation begin to immerse into the findings from step 4 and discover new and profound ways of making meaning in the organisation that reflects the true aspiration of all and the behaviors that the cuture must promote to achieve breakthrough performance and strategic results.
The beauty of the Discovery stage is that it becomes the conduit to access all 3 levels of the culture iceberg in a cohesive way - tying together the threads of Human potentialities of everyone into a new sense and level of engagement and performance.
Step 6 - Begin the Harnessing stage - translating the new ideal into concrete language, symbol, rituals and ceremonies. Here we go from conscious culture data points to a new set of organisational behaviors and actions, with a higher state of self-awareness or consciousness.
This is where the new discoveries made in step 5 can now be fully integrated and transformed into actionable steps, fully owned by the leaders and the people in the organisation. This is reinforced by new practices of adopting a new way of Being in a newly designed Conscious Culture that "... itself immerservisely sweeps every member of the organisation into an ongoing journey in the course of everyday work." (parenthesis by Kegan / Lahey - An Everyone Culture).
There are four levers that have been used for centuries to shift mindset (self-awareness or consciousness) and we will look at how these can be applied to creating self-realized organizations.
Language (or vocabulary): The first and foremost lever to shift individual or organizational mindset is VOCABULARY or LANGUAGE. If we want a new reality, we must speak a new vocabulary.
Rituals: Rituals are perhaps the most effective lever to transform an individual's or organization's mindset. They rewire your brain and impact the way you think, speak and do things.The following definition of rituals is found on the net: Rituals are a series of actions or type of behaviour, regularly and invariably followed by someone.
Ceremonies: Ceremonies have the power to develop greater meaning and deeper relationships, whether they be personal, organisational or community ceremonies. Ceremonies help focus the collective intentions for yourself and your organization.
Symbols: Symbols resonate with you on a deep level. They are reminders of what you stand for. They stimulate your thoughts and ideas and awaken your deeper mind. They have the power to penetrate you and code their message deep within your subconscious.
Source - the 4 levers of mindset change by Sujith Ravindran
Who should attend?
Senior management
People & Capabilties Manger and coaches/mentors
HR People Development Manager and key staff
Culture change leaders
New talents - aspiring change leaders and change makers
Culture champions
In-house coaches and mentors
Cross-functional managers and supervisors
New talents - anyone interested in personal development and growth